Hi,
looking to gather results on fastest machines of today.
The thing that interests me is superfast decompression of textual data, so I made 'Bible' benchmark package:
- single-threaded;
- Windows;
- reproducible (see below for download);
- 40+ compressors;
- testdatafile: Bible;
- integer in nature, stresses CPU-RAM subsystem;
- results sorted by compression ratio.
Benchmark_Bible_(Washigan+_vs_lzbench_vs_TurboBench)_2017-Apr-02.zip 12.6 MB (13,294,047 bytes), downloadable at:
https://drive.google.com/file/d/0BzKgu_YpO6uZNmJTV2hmVlJxeDg/view?usp=sharing
or
https://1drv.ms/u/s!AmWWFXGMzDmEgwC9Yd5JVCuRjJyE
My wish is to give the richest rosterS of compression programs of today... executed both by latest AMD and Intel CPUs.
https://1drv.ms/i/s!AmWWFXGMzDmEgwJoWmaIzTunrZjN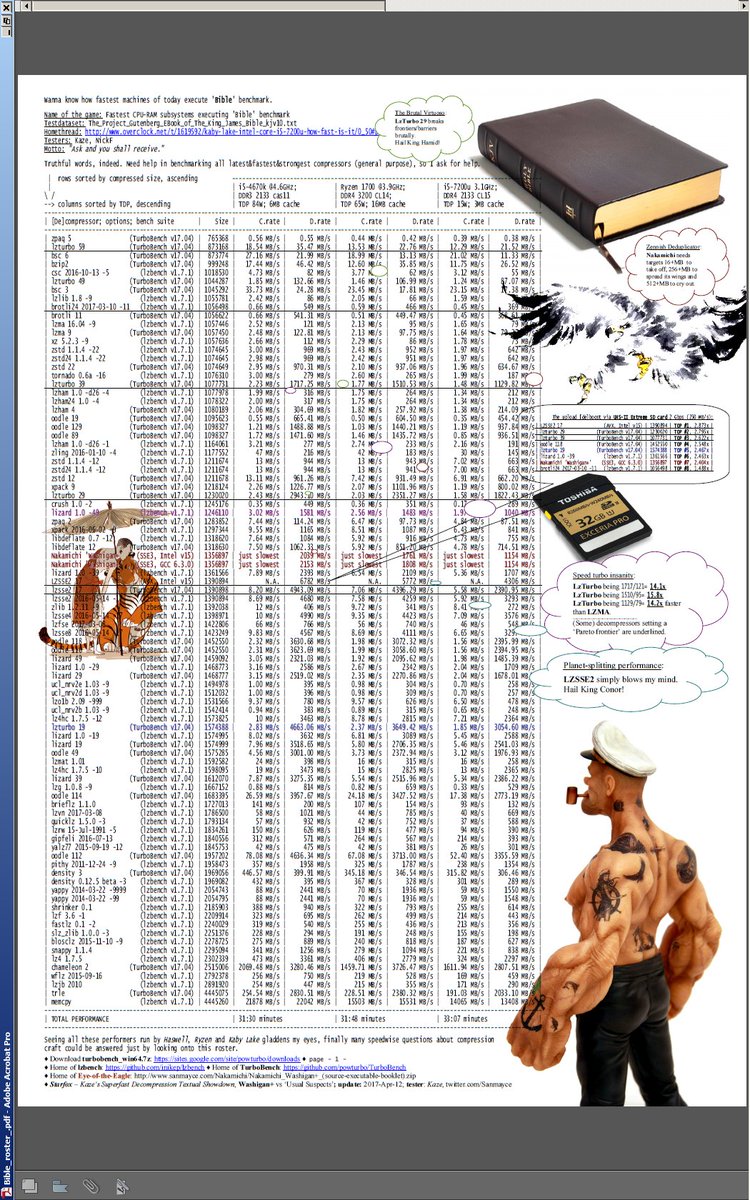 This PDF booklet features Ryzen 3.9GHz vs Haswell 4.6GHz showdown:
https://drive.google.com/file/d/0BzKgu_YpO6uZa2QyS2x2OUtGTTA/view?usp=sharing
It would be nice someone to run it on 7700K 5+GHz...
Here are the steps how to run it:
http://www.overclock.net/t/1619592/kaby-lake-intel-core-i5-7200u-how-fast-is-it/0_50#post_25991094
To me, this benchmark is quite informative since it stresses the CPU-RAM with all modern general purpose compressors, during compression phase we can see how many different algorithms behave - Hash Chains, Binary Search Trees, Suffix Arrays, Neural Networks, Automata, ...