Hi ASRock Forums,
I just wanted to note that I have been trying to use my A770 GPU on the PG B550 Velocita board and it's reporting strange things for Reziable BAR. Other people with different B550 boards are reporting no issue.
It's all enabled in BIOS and ReBAR was working with these settings with a 3070 GPU Previously.
I have tried ASRock Motherboard BIOS 2.30 and 2.40 to no avail.
Intel Driver Tool reports no ReBAR- provides link to ASRock Support
Intel ARC Control reports no ReBAR
GPU-Z Reports ReBAR Enabled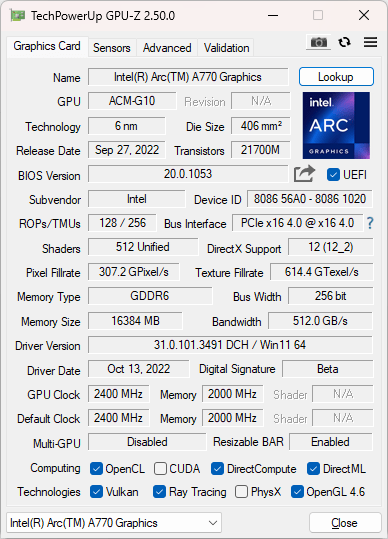 Windows Device Manager Reports ReBAR Enabled
I know it's early days with Intel ARC and I posted on the Intel/ARC discord they said likely that it's running - but they're reporting it wrong. Given the important of ReBAR on this GPU, it might be worth finding out how to fix the reporting!!